At The Gear Centre we offer parts and service for all your truck hydraulic needs. We stock a huge inventory of parts and complete units to cover any application and can supply complete Wet Line Kits for all your hydraulic applications. These include dump, walking floor, picker, and product pump/dry bulk, as well as parts and individual components. Our vendors include Parker Hydraulics, Parker Chelsea, Fabco Automotive/R. Cushman Division, Permco Hydraulics, Sunfab Pumps, APSCO Controls, Wescon Controls, American Mobile Reservoirs, Bondioli and Marzoochi.
PTOs
The Gear Centre offers the complete line of Parker Chelsea Power Take-Off units and parts. Chelsea has been serving the auxiliary power market since 1945 with the broadest coverage in the industry. Parker Chelsea PTOs are designed with a wide range of internal speeds, torque capacities and output options to match up with virtually all driven equipment requirements.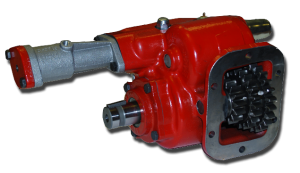 Offering a complete line of Power Take-Offs for North America, Asia Pacific, Australia, China, India and Europe, including cast iron 6-Bolt, 8-Bolt, 10-Bolt, counter shaft, split-shaft and front engine mount applications, Chelsea PTOs can fit any application you need.  Features include mechanical shift, power shift, constant engaged shift options, over speed controls and flanges for direct or remote mounting of hydraulic pumps, blowers, water pumps, product pumps and generators.
Our Parker Chelsea PTO models include:
442/489 Series – Standard Duty Mechanical Shift PTO
660/680 Series – Medium Duty Mechanical Shift PTO
880 Series – Heavy Duty Mechanical Shift PTO
823 Series – Super Heavy Duty Mechanical Shift PTO
270/271 Series – Hot Shift PTO for Light Duty Allison & Aisin Transmissions
280 Series – New 280 Series for HD & MD Allison and Cat Transmissions (Replaces the 277/278 Series)
870 Series – New 870 Heavy Duty Series for HD & MD Allison and Cat Transmissions (Replaces the 859 Series)
890/892 Series – New 890 Series Extended Tube PTO for HD & MD series Allisons
247 Series – Designed for Ford 5 speed transmission
249 Series – Designed for Ford 6 speed transmission ~ Patent Pending "Quiet" PTO
523 Series – Thru Shaft PTO for rear mount transmission opening
230/236/238 Series – Hotshift PTO for mechanical transmissions
340/348/863 Series – Forward and Reverse PTO applications – Standard and Heavy Duty
941/901/912 Series – Split Shaft PTO applications
Click here to download the complete 2016 Chelsea Application. Before selecting your own PTO, give one of our experts a call for assistance in putting together the best combination for your application. Click here to find The Gear Centre location nearest you.

If you need something with a higher horsepower to operate your equipment than a transmission mounted Chelsea can handle, ask about our Fabco R. Cushman line of split shaft PTOs. Rated up to 650 HP of continuous duty, with gearing ground to typically higher than AGMA standards, Fabco R. Cushman split shaft PTOs can get the job done. Trust The Gear Centre to supply the right power take-off for your application needs.
Our Fabco PTO models include:
Model 518A – 2 shaft split shaft PTO
Model 500 – 3 shaft split shaft PTO
Model 529 – 3 shaft "High Torque" split shaft PTO
Model 529A – Direct mount option for Allison Transmission
Model 309-488 – Creep Drive System
Don't see what you're looking for? Give us a call; we can help you find the best Fabco or Chelsea PTO for your application.

Hydraulics
At The Gear Centre, we supply all components for your hydraulic application including pumps, motors, valves, filters, reservoirs, coolers and cab controls. The Gear Centre vendors for these products include Parker, Sunfab, Permco, Quality Gear, Char-Lynn, American Mobile, APSCO, Wescon Controls, and Buyers Products. With such a wide range of vendors, we can supply components that deliver ideal performance even for the most demanding applications.
Pumps

Dump Pumps
Gear Pumps
Vane Pumps
Bent Axis Piston Pumps
Load Sensing Variable Displacement Pumps
Dry Valve Pumps
Unloader Pumps
Clutch Pumps

Motors

LSHT Geroler Motors
Gear Motors
Vane Motors
Piston Motors

Valves

Directional Control Valves
Check Valves
Flow Control Valves

Filters

Return Line Low Pressure
High Pressure
Off Line Systems

Reservoirs

Steel & Aluminum
Upright, Frame & Side Mount
Custom Sizes

Coolers

AC/DC Electric Fan Motors
Hydraulic Fan Motors

Cab Controls

Air Controls
Cable Controls
Wireless Controls
Don't forget to check our available services! At The Gear Centre, we can install or repair any truck hydraulic equipment!